summerwind
st thomas & st augustine sailing
Why Choose Summerwind?
Experience Unforgettable Sailing Adventures Aboard Summerwind Adventures Sailboat Charters
Experience the epitome of indulgence in St. Thomas (U.S. Virgin Islands) & St. Augustine (Florida). While there are various boat options available, Summerwind Sailboat Charters stands apart.
In St. Augustine and St. Thomas,  there are many large tour boats, schooners, pirate ships, excursions and even boat-hotels located in local marinas that you can choose if you only want to experience being on a boat. Summerwind adventures are very different.
Unless you own your own yacht, our adventures are not replicated anywhere.
As an additional amenity we are happy to provide a masseuse and will be onboard for your pleasure. You and your guests will lounge in plush robes usually only offered in luxurious hotels. Our meals are catered to meet your specific dietary needs and can be brought on board. If you have the taste for gourmet dining, an executive chef can be arranged to serve you aboard.
Summerwind Sailing Adventures is a rare private yachting experience where you and your guests can be out on the ocean with a crew on a sailboat for an entire multi-day sailing adventure.
With exclusive adventures not replicated elsewhere, we offer a private yachting experience like no other.
Enjoy many water toys aboard, including tandem, kayak, standup, paddleboard, surfboards, and more.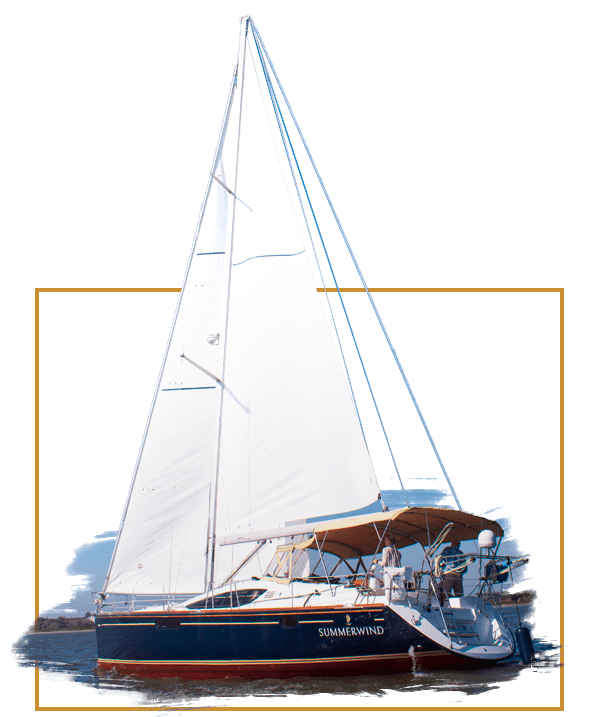 Experience Unparalleled Luxury with summerwind sailing Charters
If you seek pampering aboard a stunning yacht in St. Thomas or St. Augustine, look no further. Summerwind adventures stand out from the rest. Replicated nowhere else, our exclusive experiences redefine luxury.
For those seeking gourmet dining, an executive chef can be arranged.
Join Summerwind Sailing Adventures for an extraordinary multi-day sailboat journey, surrounded by the captivating ocean and a professional crew.
Book your ultimate sailing adventure today!
SUMMERWIND
ABOUT OUR FOUNDERS
MARTY, CHRISTOPHER AND BRENDAN TIGHE
ABOUT OUR NAME
A MOVING MELODY
The name Summerwind comes from the wonderful song, "Summer Wind", which has been sung by dozens of top artists, but made legendary by Frank Sinatra.
Following are the lyrics: 
"The summer wind came blowin' in from across the sea. It lingered there so warm and fair to walk with me. All summer long, we sang a song and then we strolled on golden sand, two sweethearts and the summer wind. Like painted kites those days and nights, they went flyin' by. The world was new beneath a bright blue umbrella sky. Then softer than a piper man one day, it called to you, and I lost you, I lost you to the summer wind.
The autumn wind and the winter winds they have come, and they have gone. And still the days, those lonely days they go on and on. And guess who sighs his lullabies through nights that never end?
My fickle friend, the summer wind. The summer wind, the summer wind. The summer winds."

(Summer Wind is available on Apple Music).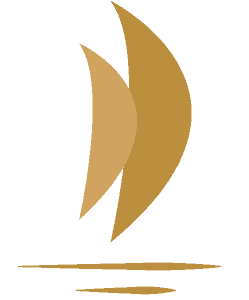 Adventures & experiences that gave life to Summerwind
Before meeting Margaret, Marty's adventures resulted in him generating more than 25,000 ocean miles in some of the world's most beautiful places. All of his sailing adventures were aboard different 45–57-foot sailboats. Marty has sailed twice to Tahiti, once from Auckland, New Zealand with stops in the Austral Island of Rurutu, and in Moorea before reaching Tahiti. His second Tahiti adventure began in San Diego, CA with a two-month sailing trip stopping in a dozen anchorages in the Marquesan Island group, more stops in the Tuamotus archipelago and then back to Moorea and Tahiti.
On the Atlantic side of the world, Marty left Las Palmas in the Canary Islands (just off the coast of Africa) and across the Atlantic bound for St. Lucia in the Caribbean, arriving 20 days later. He also Sailed from Southampton England across the English Channel, along the coast of France, Spain and Portugal. After visiting Gibraltar, he finished the adventure in beautiful Palma Majorca. There were many other sailing adventures Marty completed, for example from New York to Bermuda and twice enjoyed the Spanish, US and Virgin Islands and many trips along the east coast from Miami to Maine.
Based on their tremendous experience, the M&M team is perfectly suited to bring these amazing worldwide experiences to the thousands of annual visitors at the beautiful waters of historic St. Augustine.
EXPLORE OUR DIFFERENT SUMMERWIND EXPEDITIONS
CHOOSE YOUR OWN ADVENTURE
We offer an array of adventures than span from a few hours to multiple overnights. We offer flexibility for your timeline and budget. We can even create a customized adventure to meet your every need.
Private 2 hour day-time Sailing Adventure
PRIVATE ONE NIGHT ABOARD IN ST. AUGUSTINE
PRIVATE 2 NIGHTS ABOARD IN ST. AUGUSTINE
PRIVATE 3 NIGHT OCEAN SAILING ADVENTURE
testimonials
What Our Customers Say About Us
Sailing with Marty was my first experience as an adult sailing off the coast. We had a wonderful trip starting in St Augustine. First, we were given some basic information about the boat and safety, the other crew members and our destination. Then we were off. We sailed up to Amelia Island for most of the day and then docked at Fernandina Beach marina. We had a short walk into downtown and had a wonderful meal. It was also a great way to really get to know the other members of the crew. The next morning we set off and sailed north to Cumberland Island. Once on the island, we explored the ruins, had a nice hike and enjoyed dinner on the boat. The next step was amazing. We headed off into the sunset on the boat and sailed all night. It was truly exhilarating sailing through the night. At all times, I felt safe but the excitement got me hooked on sailing. Marty is honest, helpful, and always cheerful; exactly what you want in a captain.
This past summer my husband and I had an awesome time on Summerwind. The weather was warm so it was a great time sailing to downtown St Augustine and simply grabbing a mooring ball eating a yummy lunch with our family and diving off the back for a refreshing dip. The following day we took the boat several miles out in the ocean with all the sails up, music on in the cabin; a complete escape from work etc. At day's end we sailed right up to Caps On The Water restaurant for my birthday where we enjoyed a seafood dinner and drinks. We can't wait to plan another visit aboard Summerwind, It was a complete vacation over only a single weekend. Many thanks.
Sailing with Marty is truly a treat... He and his trusty Yacht are one with the mighty ocean. Years at sea and behind the helm show, and pay off in high seas or calm. But don't get too comfortable because he is always game to teach you the ropes and be sure you are part of the adventure. There is nothing more peaceful and fulfilling than a day at sea with Marty. Thanks for the memories!
We had such a peaceful experience taking in the joys of the sea while sailing with Marty. He was willing to let us take on roles to help sail the boat (and willing to let us fail, too!) We brought along our two little children (2.5 years and 10 months) and they enjoyed playing below deck and seeing the beautiful scenery sailing by. We were grateful for Marty's expertise, generosity and passion for sailing!
I've sailed with Captain Marty several times and it was a joy. One of the trips was a longer sail from Puerto Rico to Saint Augustine, Florida in May, 2013. We had a great time and I felt totally comfortable with Marty as our Captain. His sailing and navigating experience made me feel very at ease while on the water - he is a safety conscious sailor. I would give the trip 5 stars!
Being a novice on boats, this was a very exciting time for me. Marty and the crew made me feel very comfortable aboard the Yacht. We sailed down the Cooper River, under the incredible Arthur Ravenel Jr. Bridge and into Charleston Harbor. I enjoyed seeing the USS Yorktown and the submarines. The view of the city of Charleston and the historic homes was amazing! Marty is very knowledgeable about historic sites. Seeing Fort Sumter from the water was also a memorable experience. I would rate this sail as 5 stars
My family and I have sailed many times over the last ten years with Marty and his crews including wonderful afternoons off the coast of St. Augustine. We have had many fabulous overnight trips to places like Fernandina Beach and Cumberland Island. Summerwind is a beautiful Yacht and she sails like a dream. Some our family's greatest moments have been sailing on Summerwind with the sails up on a beautiful day with gentle breezes moving along the ocean effortlessly. We strive to create lifelong memories with our family by having experiences together and a day on Summerwind is an unforgettable experience. We give Summerwind and the amazing crew 5 stars and can't wait for our next sailing Adventure.