summerwind
Boat Tour St. Augustine
Explore the Coastline in Luxury
Welcome to St. Augustine, Florida, a city known for its rich history, picturesque landscapes, and captivating coastal beauty. If you're seeking an extraordinary and indulgent experience on the water, look no further than Summerwind Sailing Adventures. Unlike the typical boat tours found in the area, Summerwind offers a one-of-a-kind private yachting experience that will leave you pampered and enthralled. Discover the ultimate way to explore St. Augustine's stunning coastline and create lasting memories aboard a luxurious sailboat.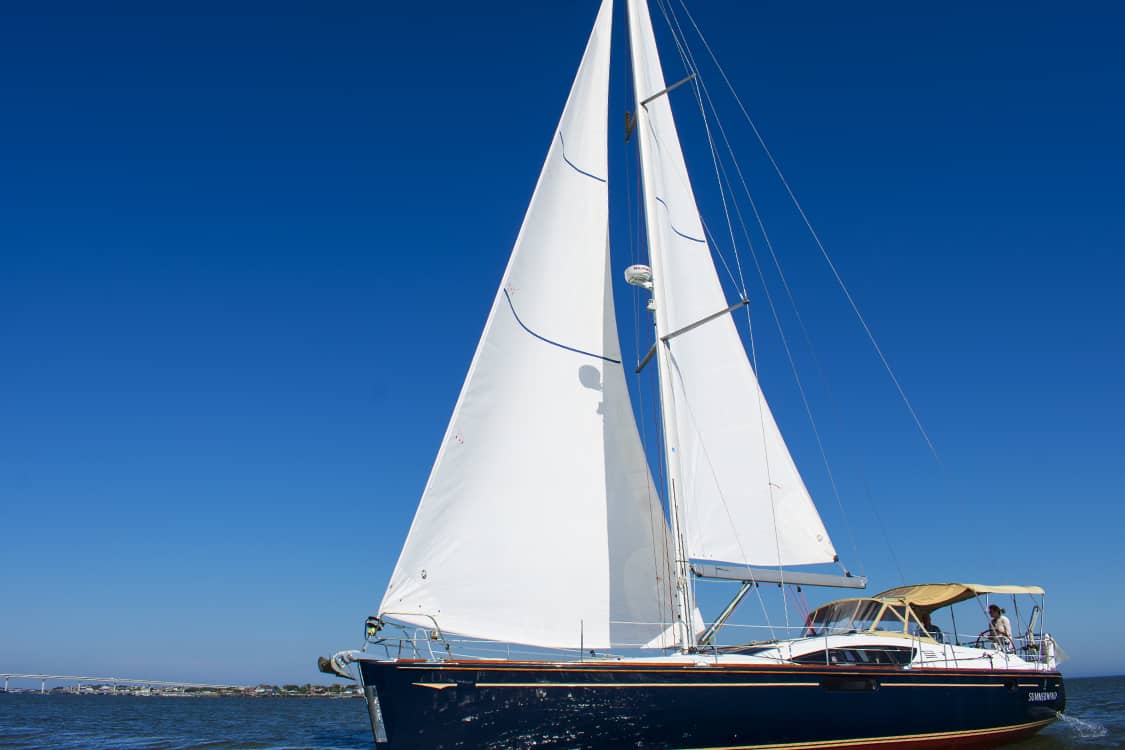 SUMMERWIND
WHY CHOOSE Summerwind for Boat Tour St. Augustine?
St Augustine Sailing Charters
The yacht
At Summerwind Sailing Adventures, we offer an exceptional boat tour experience in St. Augustine that will leave you in awe. Sit back, relax, and let our experienced team handle everything for you. Alternatively, if you're interested, we can provide instruction on helming, tacking, and gybing the boat as we sail out on the vast Atlantic. By the end of your adventure, you and your guests will have gained a comprehensive understanding of ocean and inland sailing.
Features & Amenities:
Powerful and Reliable:

Our yacht is equipped with a 75-hp Yanmar Turbo diesel engine, ensuring a smooth and efficient sailing experience.

Comfortable Facilities:

Enjoy the convenience of two electric flush bathroom facilities and private showers.
The yacht features three staterooms, including a spacious owner's stateroom, and two additional VIP staterooms.
The salon is designed for total comfort and can accommodate up to six guests.
A fully equipped galley with refrigerator, freezer, coffee station, and microwave is at your disposal.

Spacious and Relaxing:

The cockpit can comfortably accommodate up to 10 guests, providing ample space for relaxation under the starlit sky.
Host a delightful cookout onboard using our BBQ grill.

Entertainment and Connectivity:

Stay entertained with YouTube TV for streaming and enjoy surround sound stereo for music throughout the yacht.
All Garmin navigation and electronics, including two chart plotters, AIS, Radar, Autopilot, and a stereo system, were newly installed in 2022.

Luxury Services:

For an exquisite dining experience, we offer the option to have a private chef on board.
Indulge in relaxation with the services of a skilled masseuse.
Safety First: We prioritize your safety during the boat tour. Summerwind is equipped with essential safety equipment, including an eight-man Winslow auto-inflate life-raft, two EPIRBS, two medical kits, four fire extinguishers, strobes, flares, and two VHF radios. We ensure that every precaution is taken to provide a secure and worry-free sailing adventure.
Don't miss out on the opportunity to embark on the ultimate boat tour in St. Augustine with Summerwind Sailing Adventures. Immerse yourself in luxury, comfort, and unforgettable experiences on the Atlantic. Book your adventure today and create memories that will last a lifetime.
Boat Tour St. Augustine
Romantic Weekends
Indulge in the epitome of elegance and relaxation as you embark on a private 50ft yacht for a breathtaking Boat Tour St. Augustine sunset cruise. Step aboard Summerwind, where every aspect of your experience is meticulously crafted to ensure a 5-star journey like no other. With a dedicated Captain and attentive crew, you'll be treated to unparalleled service from the moment you set foot on the yacht.
Customized Itinerary and Personalized Service: Onboard Summerwind, you have the freedom to be the commander of your own schedule. Craft a personalized journey that suits your desires and preferences. Whether you're seeking a romantic evening for two or a gathering of esteemed guests, our team will curate the perfect itinerary to create cherished memories.
Culinary Delights and Exquisite Offerings: Savor a culinary adventure unlike any other during your Boat Tour St. Augustine sunset cruise. Delight your taste buds with a range of delectable meal options, carefully prepared by our skilled chefs. Indulge in Home-Style Southern cooking that will transport you to the heart of the region's flavors. For those seeking a truly extravagant experience, we offer exquisite offerings such as oysters, caviar, and Champagne, elevating your sunset adventure to extraordinary heights.
Unforgettable Experiences for You and Your Guests: Immerse yourself in an array of customized experiences that will leave a lasting impression. Whether it's basking in the golden hues of a breathtaking sunset, enjoying live entertainment, or simply relishing the serenity of the open water, your Boat Tour St. Augustine adventure is designed to exceed your expectations. Our crew will ensure that every detail is flawlessly executed, allowing you to relax and soak in the beauty of the moment.
Book Your Extraordinary Sunset Adventure: Don't miss the opportunity to embark on a boat tour in St. Augustine that transcends ordinary experiences. With Summerwind, your sunset cruise becomes a luxurious voyage tailored to your desires. Elevate your journey to unparalleled heights of opulence, relaxation, and breathtaking beauty. Book your Boat Tour St. Augustine sunset cruise now and prepare for an unforgettable adventure that will create cherished memories for years to come.
contact
get in touch
Contact Us
Looking to book a sailing charter on Summerwind?
Get in touch, either via the form below or calling us directly at (404) 229-0507. Someone from our team will address your needs and answer any questions you may have. We are happy to help and look forward to getting to know you!