St. Thomas & St Augustine Sailing Charters
The yacht
Welcome aboard Summerwind: An elegant Jeanneau, DS 50-foot sailing yacht, one of the largest private sailing yachts FOR CHARTER in St. Thomas & St. Augustine.
You are welcome to sit back and allow our team to handle everything, or if interested we will provide instruction and helming, tacking, and gybing the boat as we sail out on the Atlantic. You and your guest will have the opportunity to fully understand ocean and inland sailing by
the end of your adventure.
Features & Amenities:
75-hp Yanmar Turbo diesel engine
2 electric flush bathroom facilities
Private showers
3 staterooms, with spacious owner's stateroom
2 additional VIP staterooms
Salon is also spacious with room to accommodate 6 in total comfort
Fully equipped galley, refrigerator, freezer, coffee station and microwave
Cockpit can fit 10 guests, plenty of room for stretching-out under the stars
BBQ grill that can be utilized for hosting a wonderful cookout aboard.
YouTube TV for streaming and surround sounds stereo for music throughout the yacht.
All Garmin navigation and electronics including: two chart plotters, AIS, Radar, Autopilot, and stereo installed in 2022
Private chef and masseuse options available
For safety, Summerwind carries an eight-man Winslow auto-inflate life-raft, two EPIRBS, two medical kits, four fire extinguishers, strobes, flares, and two-VHF radios for safety aboard.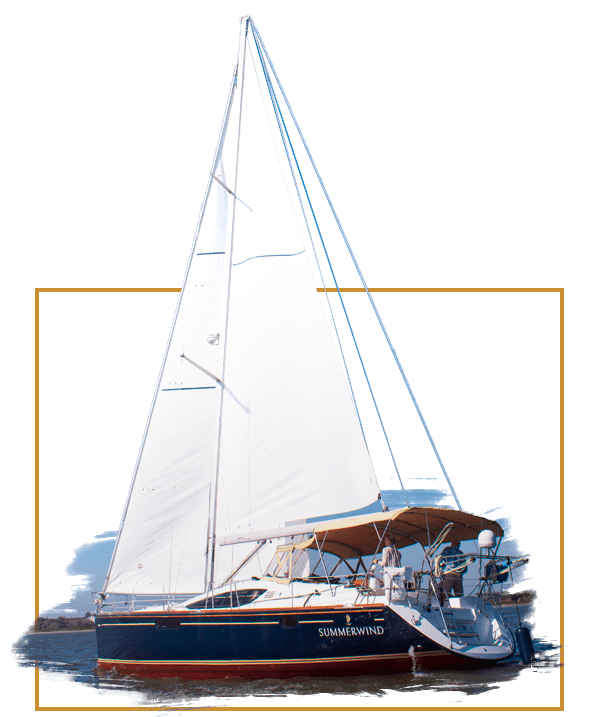 testimonials
WHAT OUR CUSTOMERS SAY ABOUT US
Sailing with Marty was my first experience as an adult sailing off the coast. We had a wonderful trip starting in St Augustine. First, we were given some basic information about the boat and safety, the other crew members and our destination. Then we were off. We sailed up to Amelia Island for most of the day and then docked at Fernandina Beach marina. We had a short walk into downtown and had a wonderful meal. It was also a great way to really get to know the other members of the crew. The next morning we set off and sailed north to Cumberland Island. Once on the island, we explored the ruins, had a nice hike and enjoyed dinner on the boat. The next step was amazing. We headed off into the sunset on the boat and sailed all night. It was truly exhilarating sailing through the night. At all times, I felt safe but the excitement got me hooked on sailing. Marty is honest, helpful, and always cheerful; exactly what you want in a captain.
This past summer my husband and I had an awesome time on Summerwind. The weather was warm so it was a great time sailing to downtown St Augustine and simply grabbing a mooring ball eating a yummy lunch with our family and diving off the back for a refreshing dip. The following day we took the boat several miles out in the ocean with all the sails up, music on in the cabin; a complete escape from work etc. At day's end we sailed right up to Caps On The Water restaurant for my birthday where we enjoyed a seafood dinner and drinks. We can't wait to plan another visit aboard Summerwind, It was a complete vacation over only a single weekend. Many thanks.
Sailing with Marty is truly a treat... He and his trusty Yacht are one with the mighty ocean. Years at sea and behind the helm show, and pay off in high seas or calm. But don't get too comfortable because he is always game to teach you the ropes and be sure you are part of the adventure. There is nothing more peaceful and fulfilling than a day at sea with Marty. Thanks for the memories!
We had such a peaceful experience taking in the joys of the sea while sailing with Marty. He was willing to let us take on roles to help sail the boat (and willing to let us fail, too!) We brought along our two little children (2.5 years and 10 months) and they enjoyed playing below deck and seeing the beautiful scenery sailing by. We were grateful for Marty's expertise, generosity and passion for sailing!
I've sailed with Captain Marty several times and it was a joy. One of the trips was a longer sail from Puerto Rico to Saint Augustine, Florida in May, 2013. We had a great time and I felt totally comfortable with Marty as our Captain. His sailing and navigating experience made me feel very at ease while on the water - he is a safety conscious sailor. I would give the trip 5 stars!
Being a novice on boats, this was a very exciting time for me. Marty and the crew made me feel very comfortable aboard the Yacht. We sailed down the Cooper River, under the incredible Arthur Ravenel Jr. Bridge and into Charleston Harbor. I enjoyed seeing the USS Yorktown and the submarines. The view of the city of Charleston and the historic homes was amazing! Marty is very knowledgeable about historic sites. Seeing Fort Sumter from the water was also a memorable experience. I would rate this sail as 5 stars
My family and I have sailed many times over the last ten years with Marty and his crews including wonderful afternoons off the coast of St. Augustine. We have had many fabulous overnight trips to places like Fernandina Beach and Cumberland Island. Summerwind is a beautiful Yacht and she sails like a dream. Some our family's greatest moments have been sailing on Summerwind with the sails up on a beautiful day with gentle breezes moving along the ocean effortlessly. We strive to create lifelong memories with our family by having experiences together and a day on Summerwind is an unforgettable experience. We give Summerwind and the amazing crew 5 stars and can't wait for our next sailing Adventure.
Summerwind
Unleash Your Sailing Adventure
We invite you to unleash your sailing adventure on the pristine waters of this captivating coastal city. Embark on a journey of discovery and exhilaration as you set sail on our exceptional fleet, crafted to provide the ultimate sailing experience.
At Summerwind, we offer a range of options to cater to sailors of all levels, from beginners to seasoned enthusiasts. Whether you desire a leisurely day sail or an extended voyage, our experienced and knowledgeable captains are here to guide you every step of the way, ensuring a safe and enjoyable journey.
Immerse yourself in the beauty of St. Thomas & St. Augustine as you navigate its scenic waterways, lined with historic landmarks and breathtaking natural landscapes. Feel the thrill of the wind in your sails and the gentle motion of the yacht beneath you, as you embrace the freedom and serenity that sailing brings.
Our fleet features a selection of meticulously maintained vessels, including the elegant and spacious Summerwind flagship yacht. Designed for comfort and performance, these yachts provide the perfect platform to indulge in your passion for sailing while savoring the luxuries and amenities onboard.
With Summerwind, the possibilities for adventure are endless. Set sail for a day trip, exploring nearby coastal gems or embark on a multi-day expedition, discovering hidden coves and secluded beaches. Take part in thrilling regattas or simply relax on deck, basking in the warm Florida sun.
Whether you're seeking a solo escapade, a romantic getaway, or a memorable group experience, Summerwind caters to your every need. Our dedicated crew ensures a personalized and unforgettable journey, tailored to create cherished memories that will last a lifetime.
Ready to embark on your St Thomas or St Augustine sailing charter? Contact us today and let us help you plan your dream sailing adventure, as we navigate the waters of St Thomas or St Augustine, blending the thrill of sailing with the charm and beauty of this historic city.